Purchasing furniture for your home can be overwhelming and stressful if you haven't prepared. So, what do you need to know before you go shopping? To make your experience painless and fun, the staff at Walnut Creek Furniture have assembled some furniture guidelines to help you with the "need to knows."
---
Measurements, Samples and Inspiration
First, make a game plan before you shop. These furniture guidelines will help you plan the updates for your entire home or just one room –
Bring the dimensions of the room or rooms (or even a blueprint of your house) that you are wanting to furnish. You'll want to know how much room you have so your furniture will fit into the space – both from a physical standpoint and to keep it in proportion to the space.
For inspiration, bring photos of your space, or better yet, samples of flooring, rugs, paint colors or window treatments.
These days, many people get inspiration from magazines, websites or Pinterest - bring those photos along! A photo is worth a thousand words and can save you from the headaches of miscommunication.
We all have that friend with with the perfect house and a knack for design. If you'd like to match something you've seen in someone's house, be sure to shoot a photo to discuss with your sales associate. Or, you can even bring your "design-y" friend along to the store!
Children like to be part of the buying experience and often have observations that may never occur to an adult. At Walnut Creek Furniture, children are welcome in our store -  we have a theater room and games to occupy them.
---
Furniture Guidelines for Custom Pieces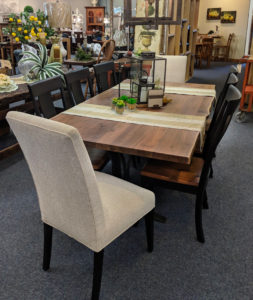 Need a 9 1/2 foot table (ala JoAnna Gaines?) Take a look around the showroom and find a style that's right, even if it's the wrong size or color. Feel free to be creative. Any style that you find can be made just to your specifications – in any wood species, size, stain color, paint color and hardware.
Walnut Creek Furniture's wooden pieces are all solid hardwood-built by our talented Amish craftsmen from the local area. From years of experience, they have become very skilled at customizing. Your sales associate will ask you the right questions to have your custom piece built exactly for you!
---
Longevity of your Heirloom-quality Amish Furniture
You want the best for your money. Because Amish furniture is an investment, longevity is important. In our on site finish room at Walnut Creek Furniture, we've selected a finish that is water resistant, heat resistant up to almost a boiling point, and household chemical resistant.
Because we use a catalyzed varnish that dries fast and hard, your furniture will be more scratch resistant as well. However, resistant is the key word. Nothing is indestructible, so you will still want to be cautious with sharp objects.
---
Let's talk about your style!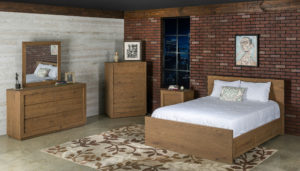 "The key to great design is capturing the spirit of the client and the essence of the room."
Perhaps the most important step is to grab a cup of coffee and a cookie from our "coffee nook" and sit down to talk about your personal style. Together, we will figure out the perfect pieces of furniture to make your home complete!
We look forward to working with you!
– Contributed by Ruth Beachy, Design Lead at Walnut Creek Furniture