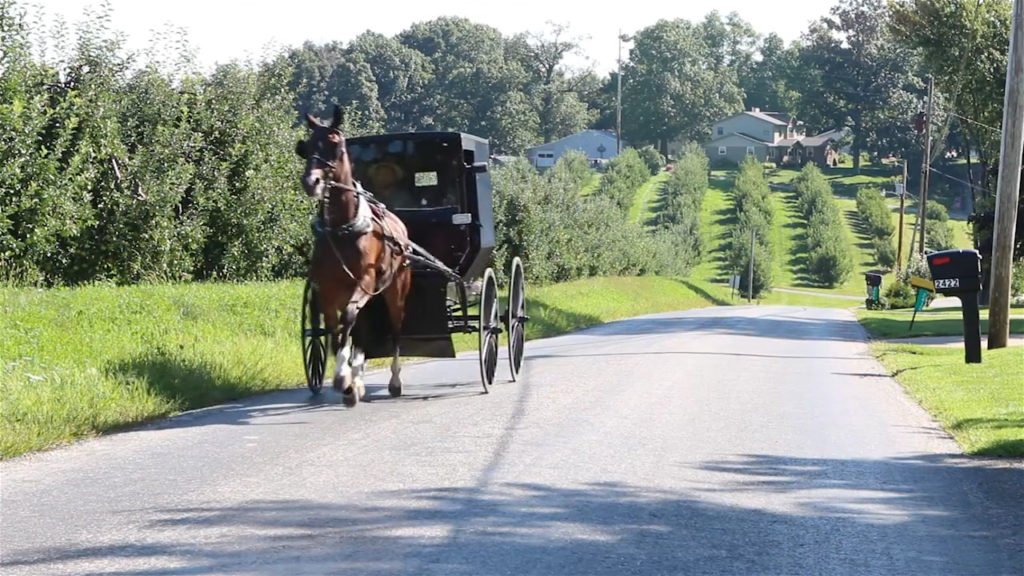 Ninety-three years ago, three gentlemen made the decision to plant apple trees on a hillside in the village of Walnut Creek, Ohio, marking the beginning of Hillcrest Orchard. It was 1927.
It wasn't long before two of the partners decided the orchard business wasn't for them. The remaining partner, Dan Hershberger, wanted to continue the project, and committed to making payments to buy out the other partners.
Despite the Great Depression, which began in 1929, Dan was able to build a large, red-brick home on the property in 1930; but in 1932, Dan became unable to make timely payments to his former partners. After multiple delayed payments, the partners made the decision to take back the land and the orchard, arriving at the orchard making demands, only to discover Dan had been given financial help and was ready to pay them all that he owed. That help came from Robert Troyer of Sugarcreek. Robert believed in Dan's dream and was willing to provide him with the finances needed to keep the orchard.
After thirty-five years in the orchard business, Dan decided to sell. His asking price for the orchard was $38,000. There were two interested parties. Lester Troyer offered $36,000, letting Dan know that was as much as he could possibly pay. Today, offering $2000 less than an asking price doesn't seem unusual, but in 1961, accepting an offer of $2000 less than asking price was not often considered or accepted.
Even though the other interested party offered Dan more money, he chose to sell the orchard to Lester Troyer, accepting his offer of $2000 below his asking price. The reason? Thirty-five years earlier, Robert Troyer's kindness and financial help enabled Dan Hershberger to save the orchard and move forward with his dream. Now, Lester was Robert Troyer's son-in-law, married to Robert's daughter, Katie. Long before it was an everyday term, Dan Hershberger was 'paying it forward.' He accepted Lester's offer of only $36,000.
When Lester Troyer took ownership of the orchard, there were 58 acres planted in fruit trees but the property had fallen into a state of neglect. As a dairy farmer, Lester thought owning an orchard would be less work than dairy farming, but after several years as an orchard owner, he said he had never worked so hard. Apple orchards are a year-round job. Pruning, spraying, picking, planting, and replacing trees is a never-ending cycle, not unlike the life of a dairy farmer.
In the beginning, there was little profit and continual expenses for planting trees to expand the orchard. A year's profit was barely $500. In order to keep the orchard going, Lester sold frontage land and began selling apples anywhere he could. He sold apples in a small building at the orchard, went door-to-door in nearby neighborhoods, sold at small auctions, at a few small grocery stores, and at any business willing to offer apples for sale.
In the early years, Lester sold mostly Red Delicious, Yellow Delicious, and Transparent. At that time, all the trees were typical, standard-size trees, planted 40 feet apart, with peach trees planted between the apple trees.
As the years went by, Lester's oldest sons and daughters married and left home, leaving only his daughter Laura and her younger brother to help with the orchard. Laura's brother, Lester Jr., was not interested in 'apple farming.' So, when Laura married Jake Hershberger, they made the decision to help Laura's father with the orchard, setting up housekeeping in a log home on the orchard property.
When Lester was diagnosed with cancer in 1968, Laura and Jake made the decision to manage and maintain the orchard. They moved from their log home to the larger, red-brick home on the orchard property, growing their family and the orchard. Each of their children learned to help with orchard duties at a young age. It was a family affair and everyone played an important part in the life and growth of Hillcrest Orchard.
When Jake and Laura became owners of the orchard, they had approximately 1000 trees. That meant they needed to find apple pickers every year. Fifty years ago, apple trees were much taller and larger. It was necessary to climb a ladder to reach all the apples. Up the ladder. Fill the pouch strapped around your shoulders. Climb back down the ladder. Empty the pouch and crawl back up the ladder. This process had to be repeated over and over. Jake recalls a McIntosh tree that produced fifty-eight bushels of apples in one season. Imagine the trips up and down the ladder for just one tree. In 1969, apple pickers were paid 25 cents per bushel and peach pickers were paid by the hour.
Since the early years, peaches and apples have been sold in the building right next to the owner's home. Peaches always sold as quickly as they were picked, but the basement of the building served as the storage for the apples. As more apples were needed in the sales room, they were loaded into baskets and raised to the main floor using a hand-crank elevator. Currently, fork lifts and pallet jacks move the apples from refrigerated storage to the sales floor. The hand-crank elevator is no longer needed.
As Jake and Laura's children grew up, they were able to help in every area of the orchard, making it possible for the family to continue to grow the business in many ways. They planted more trees, choosing semi-dwarf trees instead of the standard size and adding a variety of apples including Gala and Honeycrisp. Trees were now planted fifteen feet apart instead of the forty foot spacing of the original trees.
In the early 1960's, apples sold for $2.00 per bushel. By the 1970's the price was $7.00 per bushel. The current average price per bushel is $20 with some specialty apples selling for $40 per bushel.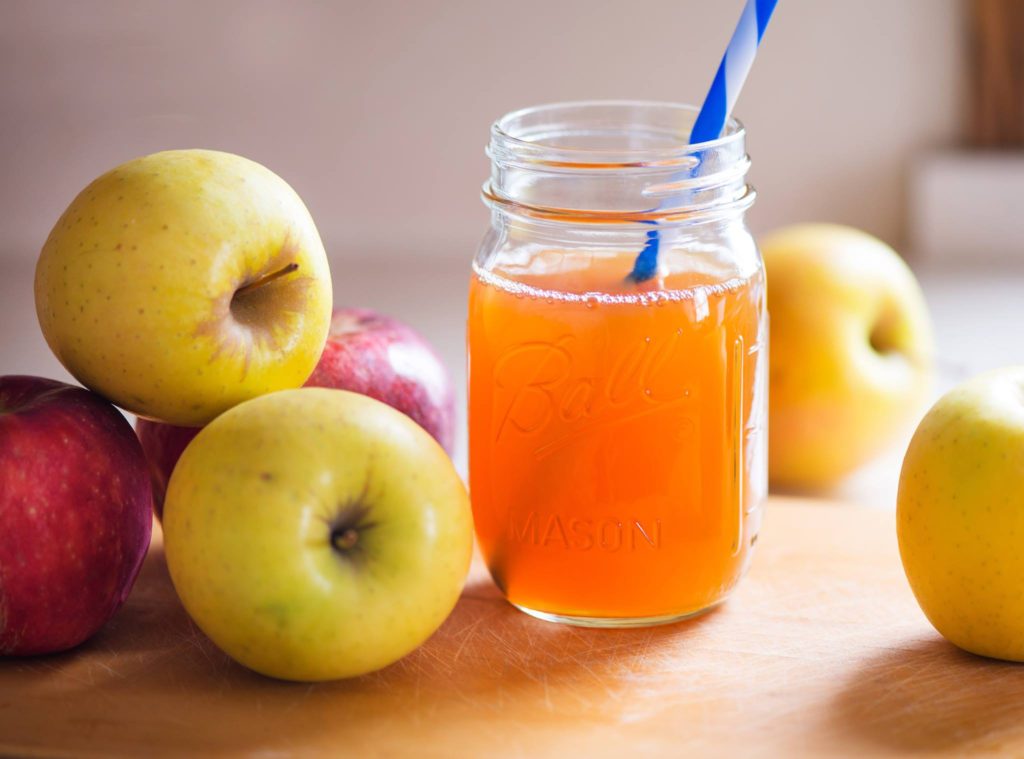 Jake and Laura decided to expand the items they offered for sale and began selling Trail Bologna, locally made cheeses, and nuts. The addition of their own freshly pressed cider was immediately popular and the tradition continues to this day, being awarded "2019 Best Apple Cider in Ohio" by the Ohio Apples Marketing Program. In addition to fresh cider, they also offer delicious frozen cider slush.
When Jake and Laura's son, Merle, married Lela, the heritage of Hillcrest Orchard was repeated. Merle and Lela set up housekeeping in a mobile home just across the street from the orchard, choosing to build their life around the life and growth of the orchard.
In 1998, Jake and Laura moved across the street into a lovely home built just for them. Merle, Lela, and their growing family, moved into the big, red-brick home next to the orchard sales room. Two years later, the father and son formed a business partnership, becoming co-owners of Hillcrest Orchard until 2008 when Merle became the sole owner.
Expansion continued with the purchase of a farm in Ragersville which included an existing orchard, enabling the family to grow and sell more apples. The Hershberger family continued to add more apple trees, choosing dwarf trees, now planted only three feet apart, supported on the hillside by trellises similar to those supporting grape vines. The size and formation of the dwarf trees translates into easier maintenance and harvesting, plus they mature and produce apples more quickly.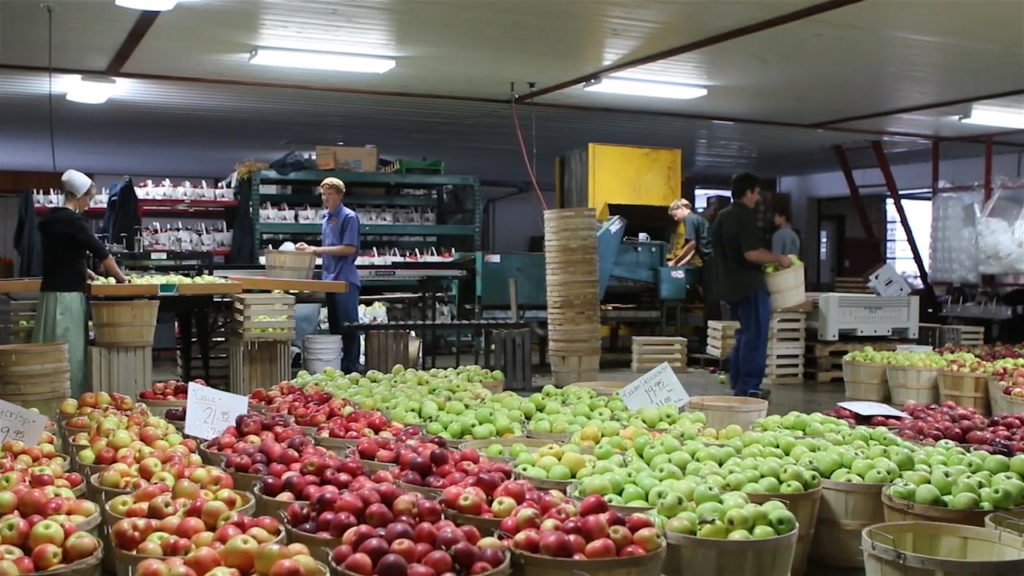 For the past 59 years, Hillcrest Orchard has been owned by a member of Laura (Troyer) Hershberger's family. Laura and Jake's son, Merle, is the current owner. Merle's brother, Duane, directs cider production, purchases produce at the local auctions, and is actively involved in the day-to-day operations. Many of Laura and Jake's grandchildren are working fulltime at the orchard as the next generation continues to grow and expand the business. In 2020, they plan to plant 5000 additional trees, bringing their total to 17,000 trees.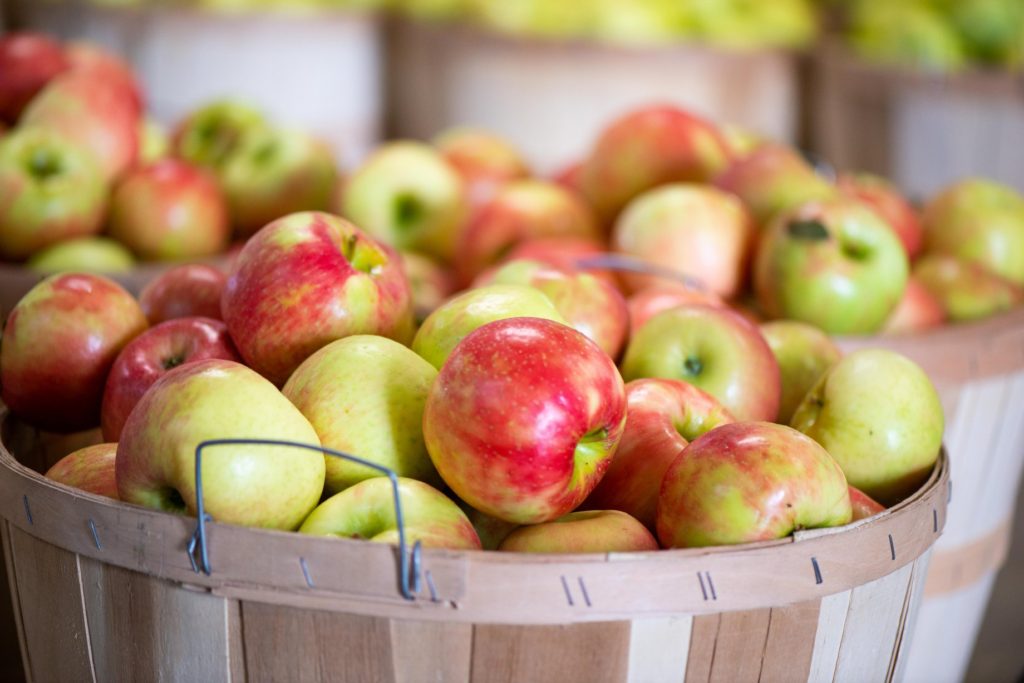 The newly expanded showroom at Hillcrest Orchard provides more space for selling a wide variety of fresh, local produce, local cheeses, candies, and nuts. Always looking to the future and continued growth, the Hershberger's consistently seek out new and unique varieties of apples, pears, and peaches to offer their customers.
When you're in Walnut Creek, take time to stop at Hillcrest Orchard. They are truly part of the 'farm-to-table' experience, offering exceptional customer service and high quality products. Don't forget: In season you are invited to pick your own apples, peaches and red raspberries. This can be a wonderful family experience.
At Hillcrest Orchard you will probably find Merle and Lela in the store, along with several of their children. Jake and Laura can often be found in the area noted as 'Mommy's Eck' which means "Grandma's Corner" in Pennsylvania Dutch. Each of them will be happy to answer your questions about all things apple.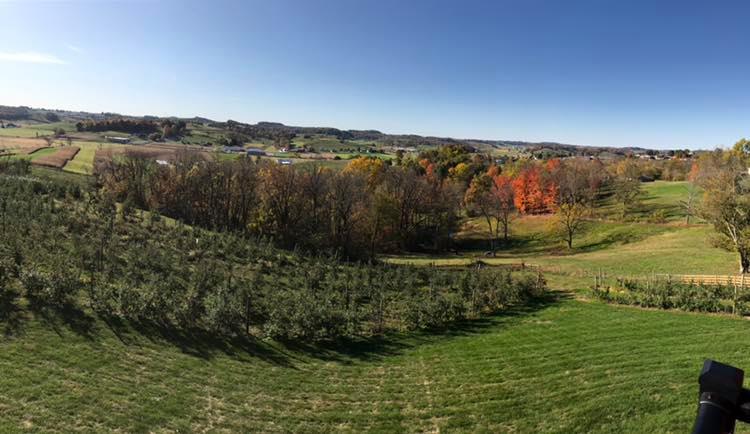 Be sure to enjoy the spacious deck they have added to the building. The deck provides an inspirational view of the orchard and valley below Walnut Creek. Take a picture, post it, and be sure to tag us on Facebook and Instagram so we know you've been to Hillcrest Orchard in Walnut Creek Ohio.
For up to date availability of products and news, please follow Hillcrest Orchard on Facebook.