Springtime is finally here after a rather cool and rainy March and April. This season has been highly anticipated for (at least) 365 days. Intrepid and dedicated hunters are marching through the woods, looking for the delicacy of the woods: Morel Mushrooms. Hunting morel mushrooms is not just a hobby - it's serious business!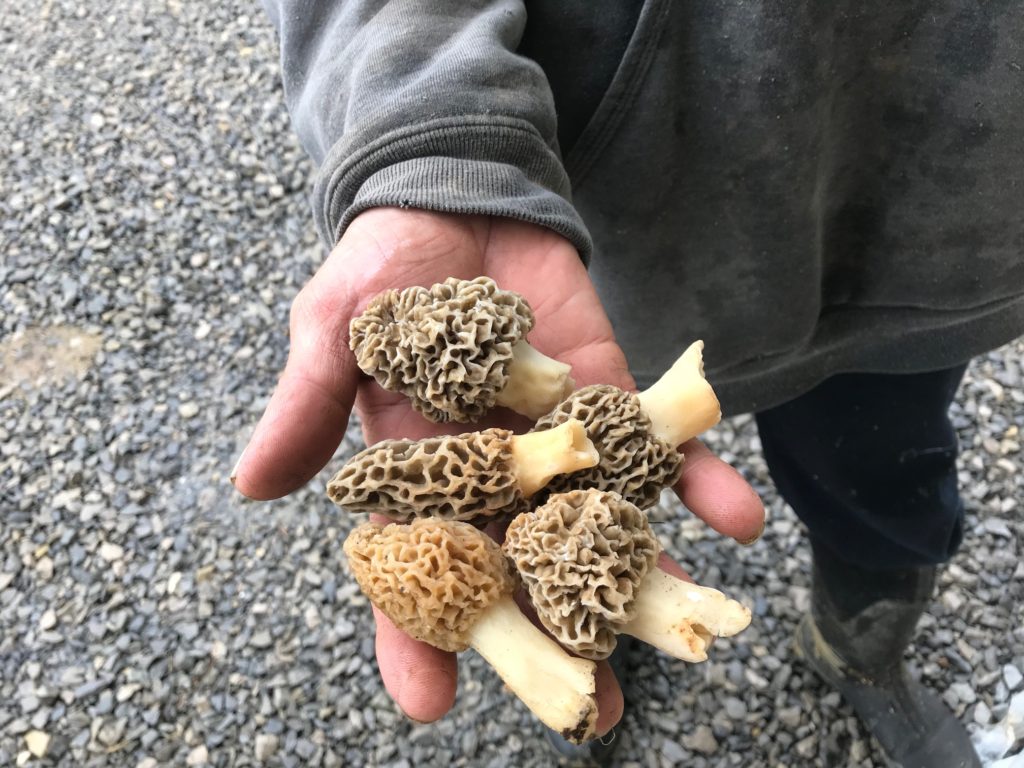 About morels
So, what's the big deal about Morels? They're actually a culinary delicacy favored by the finest chefs as well as the most ordinary cook. Unlike most common edible mushrooms, morels cannot be farmed - they must be found in the wild.
From the Morchella genus, these delicacies form a complex symbiotic relationship with trees. It takes a special eye and and knowledge of tree species to find them, because they often grow under certain species of trees - well, sometimes.
Hunting morel mushrooms usually lasts only a few weeks in the spring, and like any other type of hunting (or fishing), leads to competition between hunters. "Brag" photos are common (even in our non-prideful community) showing the number of bread bags full of mushrooms or tape measures proving the size of a jumbo find.
Recently I interviewed a veteran mushroom hunter in Walnut Creek, Nathan Mast. Nathan runs an 85 acre farm northeast of the village and has an extensive orchard, plus a variety of small fruit crops such as strawberries, blueberries and raspberries. He and has family also run Tap Tap Maple, and produce hundreds of gallons of fine quality maple syrup with their complex reverse osmosis system. Their maple syrup is sold at Walnut Creek's Hillcrest Orchard.
How to hunt morel mushrooms
Nathan has been hunting morel mushrooms for more than 30 years now, so he can legitimately be called an expert. He says they're not as easy to find as when he was younger and recalls that he found as many as 1,000 mushrooms east of Walnut Creek many years ago.
Nathan says, "you want to look for morels at the base of the tree near the roots. They grow especially well under apple trees (not crab apples - regular orchard trees), dead elm trees and yellow poplars." Triliums are often seen growing where morels grow. However, that's a general recommendation. It's possible to find the mother lode one year and find nothing the same spot the next. They're "completely unpredictable. That's what makes it fun...the challenge of finding them. It's the Joy of the Hunt!"
The mushroom season
Mushroom season begins approximately April 28 and lasts only a brief few weeks through May 10. Of course, this is dependent on the weather. According to Nathan, "mushrooms like moist weather, but not so wet they are drowning." Daytime temps need to reach 70º for about 3 days in a row (the general rule) and nice soft warm rain will make the mushrooms "pop." They grow very quickly, almost overnight, so the hunters must be dedicated to finding them before they become soft and mushy.
There are two species of morels most commonly found in the Walnut Creek area. Gray morels pop out earlier and yellow morels are found later in the season. Yellow morels tend to grow bigger and make for better "brag" photos. Other than that, there is no difference in the taste between the species.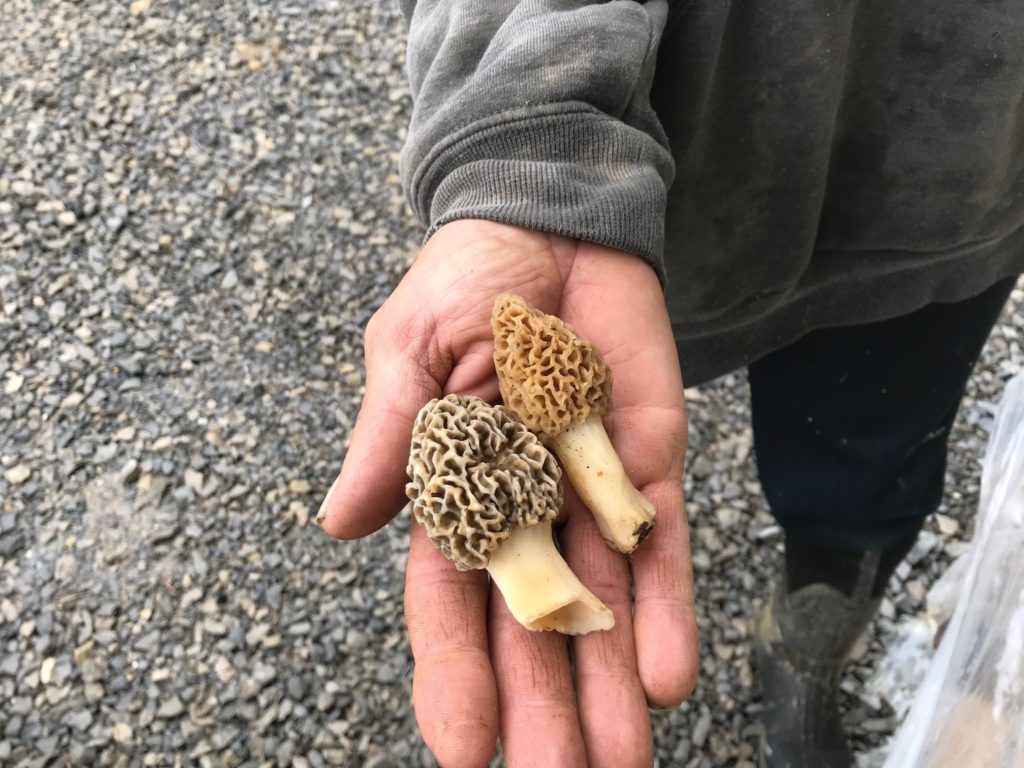 How does Nathan (and everyone else) prepare morels for eating? First they need to be washed thoroughly inside and out since they tend to be very dirty. Once cleaned, they are rolled in flour and fried in butter. They'll shrink quite a bit and darken up when they are done.
Avoid the bad mushrooms
Morels ALWAYS have honeycomb-like cap. Nathan says false morels are not commonly found here, but should not be eaten. Any mushrooms that are smooth-topped are not safe to eat.
"When in doubt, throw it out," says Nathan. Unless you are certain about the mushrooms you've picked, don't take the chance of eating something that can make you very sick or even kill you.
Always ask permission to hunt
Although years ago mushroom hunters roamed the wooded hills of Walnut Creek without much concern, Nathan says he always asks permission now. Landowners usually know the "honey holes" and claim them (rightly so) for themselves.
Morels are found in nearly any area in the temperate climate of northeastern Ohio. Nathan says they can be found on public land near Tappan Lake or on the "Ohio Power Land" near Coshocton. (The author believes that permission is needed from Ohio Power to walk over the company's land.)
Can morel mushrooms be bought?
Yes! But plan to get your checkbook out. In the season, plates of morel mushrooms are sold at the Mount Hope Livestock Auction on Wednesdays. Prices can go higher than $100 a plate, although prices depend on the season and abundance.